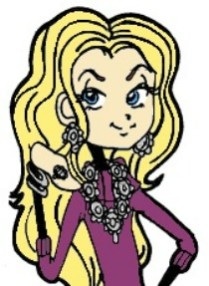 Mackenzie Hollister is Nikki Maxwell's enemy throughout the series, since she is always trying to sabotage Nikki's life, and steal away Nikki's crush, Brandon. According to Nikki, she has icy blue eyes, blond hair (but she has LOTS of hair extentions), and always wears a pound of makeup. She is always trying to get closer to Brandon, which is why she is in the newspaper editing club, writing the fashion articles. She is known as a CCP, and is very popular at her school. As Nikki says it, "Everyone adores her!", even though she has a rotten attitude. Most boys at the school have big crushes on her, and follow her to classes.
Mackenzie is vain, rude, self centered, and overly confident. Being raised by a rich family, she gets anything she wants, such as the newest fashion. She usually threatens people who don't listen to her or bully them just because she doesn't like their clothes or hobbies.
In every Dork Diaries book, she has ruined Nikki's plans, like when she participated in the art competition, the halloween dance, the talent show, Holiday on Ice charity service, newspaper club, and the Sweetheart Dance.
Mackenzie usually hangs out with Jessica Hunter, one of her friends. Jessica gossips with Mackenzie daily, and also helps her ruin Nikki's reputation and self-respect. She was invited to Mackenzie's party, meaning that she was "worthy" of being there.
Mackenzie dislikes most unpopular people in her school, like Nikki, Chloe Garcia, Zoey Franklin, Violet Baker, Thoedore L. Swagmire III, and Marcy Simms. She is disgusted by their clothing, appearance, and likes.